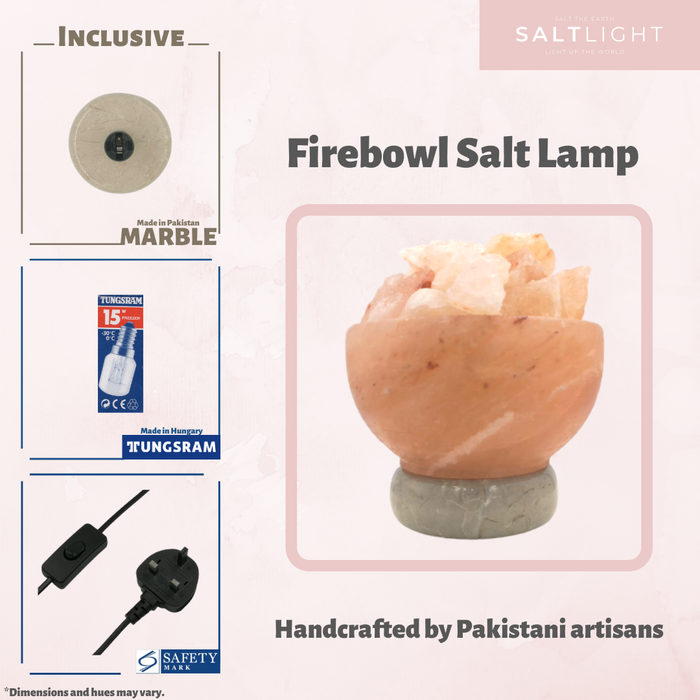 SALTLIGHT® | BOWL HIMALAYAN SALT LAMP - CRAFTED
✦ Price includes: 1 Bowl Himalayan Salt Crystal, 1 marble base with SG plug, 1 high quality & long lasting European made bulb, SALTLIGHT® handle-box, care card
✦ Weight: up to 4KG
➜ Himalayan Salt Crystal Lamps come from the Himalayas of Pakistan, where we import from. Our lamps are carefully hand-mined and expertly chose for their premium colour and natural warmth. Quality is our primary concern and we strive to provide you the perfect salt lamps as gifts, for your home or business.
➜ Do note that each salt crystal is unique individually. There is no 2nd piece of the same crystal and they will vary in grain, texture, hue, opacity and richness of colour. Every salt lamp comes with beautiful marble base and long lasting, high quality European made bulb.
Repeat purchase
Im a repeat customer. Very good service and trust worthy. Keep it up ❤️
Strongly recommend
Thank you so much saltlight! I am a return purchaser, they are always trusted n nice seller for many years already. Strongly recommend.
Attractive lamps
My parents ordered 2 lamps from salt light. Then my girlfriend came over for dinner and like the lamps a lot so I ordered 1 for her. She is overjoyed. Thank u!!
Delighted!
Superb service and response. Excellent products. Most proactive follow up. Thumbs Up!!!
Can't belive how pretty
I can't believe how pretty my salt lamp is!! I will order more for friends and loveones!!