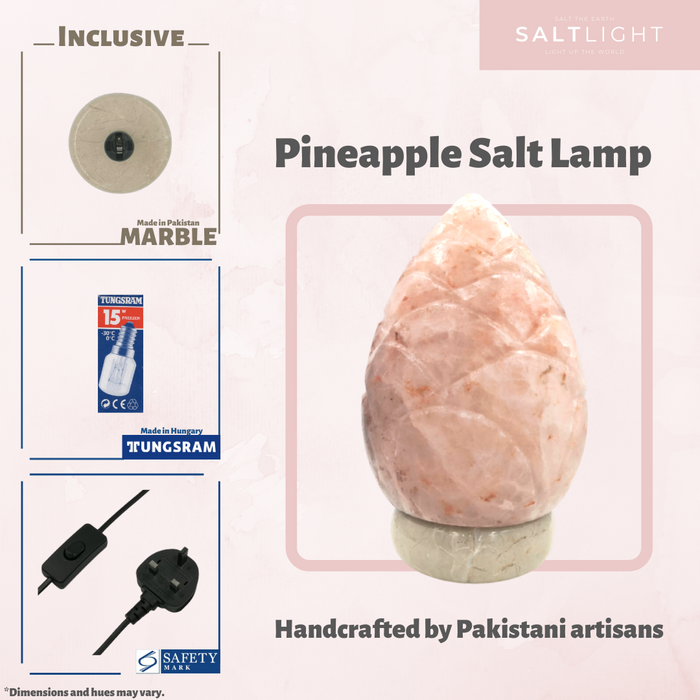 SALTLIGHT® | PINEAPPLE HIMALAYAN SALT LAMP - CRAFTED
✦ Price includes: 1 Pineapple Himalayan Salt Crystal, 1 marble base with SG plug, 1 high quality & long lasting European made bulb, SALTLIGHT® handle-box, care card
✦ Weight: up to 4KG
➜ Himalayan Salt Crystal Lamps come from the Himalayas of Pakistan, where we import from. Our lamps are carefully hand-mined and expertly chose for their premium colour and natural warmth. Quality is our primary concern and we strive to provide you the perfect salt lamps as gifts, for your home or business.
➜ Do note that each salt crystal is unique individually. There is no 2nd piece of the same crystal and they will vary in grain, texture, hue, opacity and richness of colour. Every salt lamp comes with beautiful marble base and long lasting, high quality European made bulb.
Wonderful
Seller was prompt to reply with my inquiries. Product looks good and working well.. We enjoyed it aesthetically, especially when it is turned on.
Can't live without!
I placed an order from saltlight after hearing many good things about it from a buddy of mine. I never thought I would love it as much as I do!
So grateful!!
Delivery was so smooth and quick! I placed the order on Thursday and was hoping to receive it on Friday as nobody will be at home on Sat. They managed to arrange it for me and I am so grateful! Thank you!!