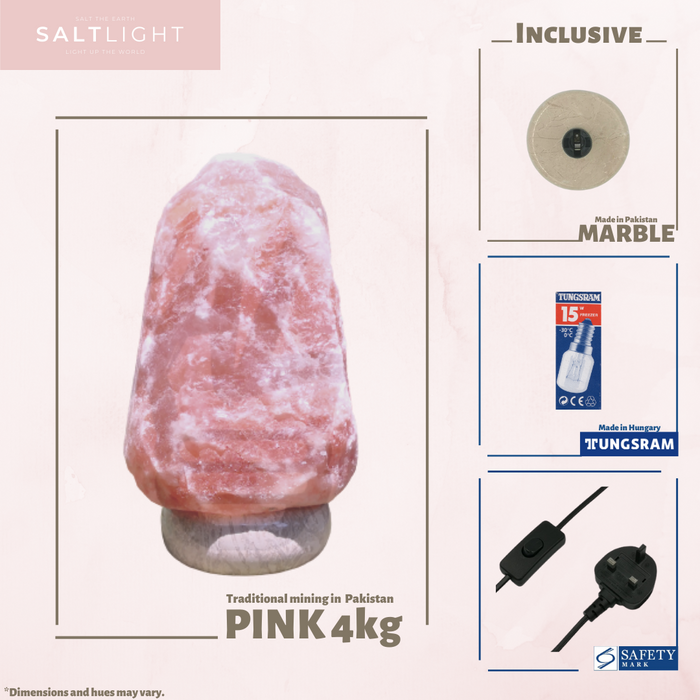 SALTLIGHT® | PINK HIMALAYAN SALT LAMP
✦ Price includes: 1 Pink Himalayan Salt Crystal, 1 marble base with SG plug, 1 high quality & long lasting European made bulb, SALTLIGHT® handle-box, care card
✦ Weight: up to 4KG
➜ Himalayan Salt Crystal Lamps come from the Himalayas of Pakistan, where we import from. Our lamps are carefully hand-mined and expertly chose for their premium colour and natural warmth. Quality is our primary concern and we strive to provide you the perfect salt lamps as gifts, for your home or business.

➜ Do note that each salt crystal is unique individually. There is no 2nd piece of the same crystal and they will vary in grain, texture, hue, opacity and richness of colour. Every salt lamp comes with beautiful marble base and long lasting, high quality European made bulb.
Looks Great
Been using for few days,so far loving the glow of it. Hope it does what it suppose to do.Love the packaging and delivery speed done by Saltlight.Great.
Beautiful
Fast delivery. Secure packaging and beautiful beautiful salt lamp. Very satisfied. Thanks you kind people of Saltlight!
Fast delivery and good product
Fast delivery and good product. Like it
Loving it
I got the pink salt light, i'll turn it on whenever i get home because i'm worried of electrical accident if its on 24/7 and no one is home. I love the reddish glow it casts and i feel its really nice at night and works like a nightlight as well. Blue light impedes sleep but i read that red light is good for eyes, not sure if this is considered red light but its reddish. The first thing i do when i get home is, turn my salt light on… the seller is really nice and patient too.
Love it
It's gorgeous, well packaged, makes a great gift and very calming