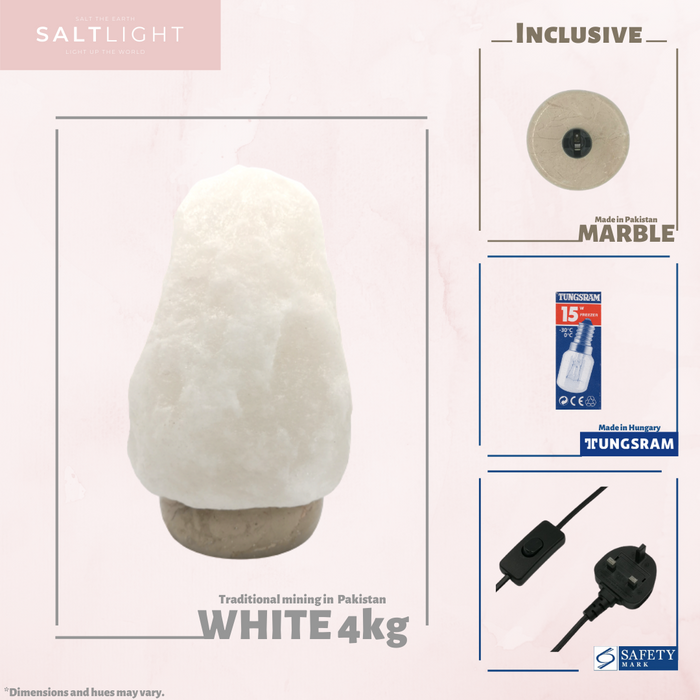 SALTLIGHT® | WHITE HIMALAYAN SALT LAMP
✦ Price includes: 1 White Himalayan Salt Crystal, 1 marble base with SG plug, 1 high quality & long lasting European made bulb, SALTLIGHT® handle-box, care card
✦ Weight: up to 4KG
➜ Himalayan Salt Crystal Lamps come from the Himalayas of Pakistan, where we import from. Our lamps are carefully hand-mined and expertly chose for their premium colour and natural warmth. Quality is our primary concern and we strive to provide you the perfect salt lamps as gifts, for your home or business.
➜ Do note that each salt crystal is unique individually. There is no 2nd piece of the same crystal and they will vary in grain, texture, hue, opacity and richness of colour. Every salt lamp comes with beautiful marble base and long lasting, high quality European made bulb.
Beautiful product, excellent service
The white salt lamp is our second salt lamp from Saltlight, and equally as lovely as the pink salt lamp we bought earlier (for a very particular 13 year old). The lamps are really beautiful and excellent quality. They both arrived really quickly as well. Very impressed, highly recommended.
White Himalayan Salt lamp
The white salt lamp gives off a different hue. Unlike the warm glow of the pink salt lamp the white one gives off an ethereal glow. Very nice. Saltlight delivered my order very promptly. Order arrived well packed. Pleasant scent of lavender. Jade was very prompt in her updates on my orders. Excellent service.
Trustworthy
Very friendly and patient seller. My order was delivered like immediate! Great purchase, will definitely order from them in future.
Just wonderful!
So happy with my salt lamps that I ordered from saltlight. They are just wonderful!
Awesome brand
What an awesome brand! Trustworthy and responsible! Thank you for the personable and warm service and for taking time to clarify my questions and explaining on how to take care of my pretty salt lamp. I am already telling my friends about you guys :) Once again, thank you very much!